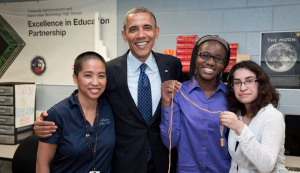 Janice Trinidad, Ph.D.
Twitter: @DrTrinilicious
I am a former PBL science facilitator at Manor New Technology High School (MNTHS).  I joined MNTHS in our inaugural year (2007).  My primary preps between 2007 and 2015 were Integrated Physics and Algebra 2 and Integrated Physics and Engineering.  I am currently using my PBL facilitation and design skills to facilitate sessions for the Think Forward Institute and to design and facilitate Professional Development for MNTHS.  I also use these skills while mentoring First Robotics Competition Team 2789 TEXplosion.   Prior to working at MNTHS, I earned my Composite Science Certification through the UTeach Baccalaureate program and earned my doctoral degree in Physics (Condensed Matter Theory) at the University of Texas at Austin.
I believe in using experiments and data to make risk taking less scary and more productive.  I believe that assessments are needed to verify the impact of strategies.  I like to count things.  In my own life, I use counting to make setting and achieving goals into a fun game that includes sparkly summary bar graphs of my productivity.  I've learned to embrace my analytical mindset in order to solve problems with more fun and efficiency.