Week 13 started a brand new trimester at Manor New Tech.  The turn of the trimester created opportunities for new classroom cultures to evolve due to the creation of new courses and due to teacher decisions to make culture-related adjustments and resets in their classes.   Mr. Garcia and I got to witness a lot these positive changes because we each completed ten walkthroughs this week.  We will continue to conduct at least ten per week which will ultimately result in more frequent feedback for teachers with the side benefit of broader representation of different teachers' and students' work in this blog.   Additionally, Mr. Merced became our new instructional coach.  With his added support of teachers, every teacher will get feedback and individual coaching at least once per week.  I hope our staff will perceive this increased attention as a positive thing.
Ms. Valderrama started the second trimester strong with activities focused on norm building and on getting to know her students better.  For her norm building activity, she had students rotate and brainstorm ideas and examples related to our school's core values: integrity, trust, respect, responsibility and perseverance.  After each team had rotated through 5 stations of brainstorming, she had each team circle common ideas in one poster holding all the ideas related to one core value.  Then she had each team distill those circled ideas into 1 to 2 norms per core value that described how teachers and students would enact the norms.  For her ice breaker activity, she had students create a timeline on a large lined post-it that included 10 influential events that occurred in their lives.  Later in the week, they converted the lists into short videos about their lives.
On the first day of the brand new integrated Physics and Engineering Design course called PHED, Mrs. Schimel and Ms. Davis dressed as the PHEDs.  They ran an engineering ice breaker activity in which students created bridges with limited materials (index cards and tape) and stacked composition notebooks on top of them to test their strength.
On Tuesday, I went to training sessions and meetings for instructional coaches all day.  I learned how to help students generate heat maps so they can identify their strengths and gaps.  As a result of this training, I created this heat map sheet for the second unit test for Biology.
I also learned some good strategies for scaffolding academic conversations and I learned an interesting strategy (called What If) for getting students engaged in science inquiry.  The strategy involves posing scenarios that students can only resolve by applying content knowledge to build pretty sophisticated mental models.   To test drive the strategy I worked with a team to brainstorm what would happen if the earth's day changed from 24 to 30 hours.  The instructions prompted us to hypothesize how the tides, seasons, and year would be affected by this change.  My group guessed that the slower rotation would lead to greater tides (due to less centripetal force), more drastic seasons (due to a change in the axial tilt), and a shorter year (due to the earth moving in a tighter faster orbit around the sun). 
Tuesday evening, I got to reconnect with a former student, Zoe, who is studying to be a teacher in the UTeach program at the University of Texas at Austin.  She was working on her Inquiry 4 project for her Research Methods class.  I was the teacher's assistant for that course while I was studying to be a teacher in the UTeach program.  Research Methods is designed to give pre-service teachers a taste of inquiry-based instruction by having them learn experimental design and statistics while completing 4 inquiry projects.  In each inquiry, they design, implement, and analyze an experiment.  She used a camera and accelerometer to gather force, acceleration, and motion data for a tackler and tackle dummy in order to investigate the impacts of different types of football tackles.
Also on Tuesday evening, the Robotics team met with the engineering mentors in order to launch a new project.  To provide a context for this new project, Dr. Erickson gave the team a detailed history of the FIRST games going back to 1999 in order to highlight specific mechanism types that have factored into several FRC games.  For their new project, the team will design a robot that can play an FRC game called Aim High with the added twist the the robot needs to be able to climb and lift its body off the ground up to heights TBA.
On Wednesday, I was on a project launch panel for Mrs. Garner's Inked project launch.  In this Art project, students will design tattoos that meet the specs of staff members at Manor New Tech.  My panel also included Mr. Villarreal, Mr. Foster, and Mr. Humphrey.  We presented our tattoo ideas to the students and answered their questions.  The four of us presented them with many compelling ideas that Mrs. Garner said her students later struggled to choose from.
I want them to design a half sleeve for my right arm that matches the half sleeve on my left arm.  Whereas the left sleeve honors my martial artist side, I want my right side to represent my intellectual side.  To match my left half sleeve, it has to be an evolving tessellation inspired by Escher's Metamorphosis done in gray scale.  To represent my intellectual side it has to incorporate turtles (because I'm plodding and deliberate) and representations of data and/or robots (because I'm a walking spreadsheet who mentors a robotics team).
Mr. Foster wants a design that incorporates the 3 meanings of his and his brothers' names: a strong tree, an ocean, a star, and tradition.   Mr. Humphrey wants a design that represents an aversion to the love of money.  Mr. Villarreal wants a zany (Looney Toones-esque) representation of epic impending doom or he wants a large image of a kraken taking down a ship.
 The following day, I followed up with the artists and was really excited by their starting ideas.  Patrick represented my idea of turtles + data + robots by drawing turtle shells wired into an integrated circuit  The design is coming out so well that I'm starting to rethink the use of color in my tattoo.
On Thursday, the sophomore class conducted their Middle Age presentations in their Humanities class.  Many parents came to the presentations which were staged in the cafeteria.  The students got very creative with their props and their costumes.
Their task was to write one-act plays that incorporated different periods of the Middle Ages.  The students got really into the drama of their skits.  There were royal dinners, road raids, raging battles, and last breath dying speeches.  Many teams incorporated students outside their team to fill out their casts.  They seemed to really enjoy acting out their plays and watching their peers.
On Thursday, I observed a few Timeline presentations in Ms. Valderrama's AV Production class.  While creating their presentations, they got to learn how to use a new iPad app, Adobe Voice.  They used Adobe Voice to create slideshow videos that displayed 10 milestone events in their lives.
On Thursday, the Physics/Engineering Design (PHED) class launched a new project called PHED Rocks.  In this project students will learn about waves by designing musical instruments.  For presentations, they will need to use their instruments to perform a wave song.  On launch day, the classroom officers got to be class leaders by facilitating the first 2 launch activities: Analyzing the Design Brief and Gathering Knows & Need-to-Knows.  The students did a pretty good job sharing their prior knowledge, their understanding of the design brief, and the questions they needed resolved to succeed in the project.
On Friday, I observed Mr. Ray using the Heat Map strategy that I learned earlier this week.  In addition to the Heat Map worksheet for CBA 2 that I gave him, he also created another one for CBA 1.  The neat thing was that some of the TEKS on CBA 2 were also on CBA 1.  As the students completed the heat maps, several of them noticed growth in their understanding of TEKS from CBA 1 to CBA 2.  Yay for data-inspired confidence!
On Friday, the seniors played the Game of Life in Mr. Santos' & Ms. Young's Humanities class.  Each student team was assigned a family in a specific income bracket.  Each turn, they received a salary and made several different payments.  They also received a chance card which gave them some sort of monetary fortune or misfortune.  They tracked their savings in a Google spreadsheet that created summary graphics for all the teams' savings as they evolved.  The game inspired many interesting monetary conversations among students.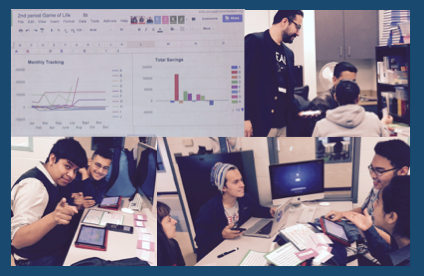 I observed Zombie presentations on exponential and log functions in Mrs. Pedroza's Precalculus class.  I liked how the students calculated the number of days it would take the zombie infestation to infect Manor New Tech, Manor, Texas, the USA and the world.  The students also used functions to calculate the spread of a cure for the zombie disease.  The student devised different scenarios for the origin of the zombie diseases which influenced some of the parameters in their exponential functions.
I observed Ms. Tillson's and Ms. Thompson's Grade 11 US History/ELA class.  They are studying the Depression and the New Deal.  They are reading and watching video clips of the Grapes of Wrath by John Steinbeck.  They are going to create a research paper that addresses the question:  How did the Great Depression and the New Deal impact the arts in America? I like how "the arts" is broad enough to accommodate many different types of artistic interests: music, paintings, dance, architecture, sculpture, etc.  
During Club time, the prom committee ran a pretty successful fundraiser: Pay to Pie Your Teacher's Face.  They grouped the teachers into packs of 3 and 4.  For a set time, students could buy tickets to get 1 teacher in each cohort pied.  There were 4 pie cohorts.  In the end, Mr. Santos, Ms. Castro, Mr. Merced, and Mrs. Schimel got pied in the face; Mr. Santos, the all around winner, got pied in the face twice.  He celebrated his victory by pieing his co-teacher, Ms. Young, in the face.  The students were thrilled throughout all the rounds – they got to taste a bit of frosty cathartic release before Thanksgiving vacation.
Friday evening, I attended the Manor Education Foundation (MEF) Gala with Mr. Fishman.  We brought last year's robot, Swaggodocio, over to the gala in order to raise money by auctioning off logo space on the robot.  Someone bid $500 to brand our robot.  We only heard the number of the bidder so we're not sure who to credit at this time.  I bid on several items and won a gift basket full of art supplies and a gift certificate for tennis lessons.  Some Robotics students were working at the event so they (thanks Enrique and Sarah!) helped us transport the robot from my truck to the main stage.  I caught up with a former student, Kevin, who was bartending the event.  Kevin shares my passion for programming so we had a really long interesting conversation about life and code.  The gala was a wonderful event, a really nice way to cap off the last week before Thanksgiving break.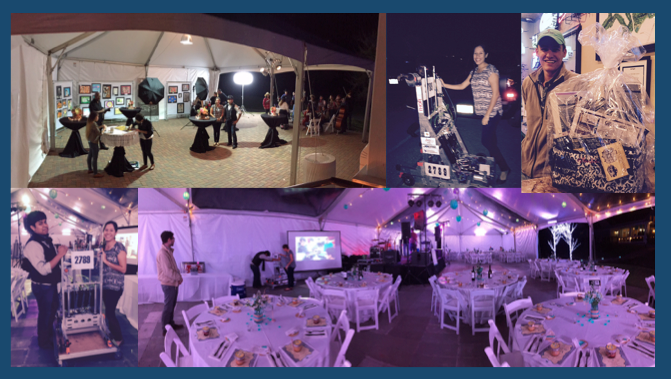 P.S.  – I recorded audio for a new spinoff podcast called Another Awesome Teacher this week.  Over the break I'm going to learn how to edit and publish podcasts.  I'm really excited about this because my First Penguin volunteer, Ms. Davis, did a wonderful job answering my interview questions.  Coming soon!  Thanks to Mr. Simpson for answering all questions about how to get this thing started.