During Week 14 at Manor New Tech, teachers and students faced the challenge of rebuilding academic momentum after a weeklong Thanksgiving break.  We all managed.  By the end of week, several students admitted that they were back in rhythm with our school's pacing.  During this week, several key meetings occurred that helped our school establish leadership structures to help us achieve our goals.  Mr. Garcia, our interim principal, met with all the team leads to clarify their main responsibilities.  The staff met in PLC teams and brainstormed discipline policies that fit our school's unique culture and goals.
On Monday, Mr. Merced, Mrs. Acevedo and I had deep conversations about how to facilitate PLC discussions with staff members that could yield ideas for discipline policies that honor our unique culture.  The graphics below show why traditional systems don't fit our mission to prepare our students for the careers of tomorrow.  Traditional schools and organizations have more hierarchical organizational structures that are aimed to efficiently solve complicated problems that can be reduced into simpler, smaller parts.  We are trying to prepare our students to contribute to organizations that value teams that solve problems that require a lot of adaptation and critical thinking and that can not be easily reduced into simpler parts.  If you'd like to read more about organizations that are designed to solve complex problems, I recommend reading Team of Teams by General Stanley McCrystal.
In response to how our unique aims can affect our discipline policies, teachers talked about wanting policies that both preserve teacher autonomy and flexibility, but also include systematic school-wide procedures.  They discussed building intervention systems, as opposed to punishment systems in response to bad student behaviors.  They talked about distributing management among teachers and students.  Teachers teach team members how to hold their peers accountable so less issues need to be handled directly by the teachers.
On Tuesday, I received concept art via from Patrick, the student who has chosen to take on my tattoo project.  I asked for a design that involves turtles, data, and robotics.  Here are some of his ideas:

I like a lot of his ideas.  I really like the circuits embedded into the shell on the right.  I also really like the wires in the background of the center image.  He asked about colors so I lifted my original black and white restriction and suggested he use the greens and blacks in integrated circuits.  If he combines the turtle shell on the right image with the wires in the center image, he'll end up with a design that looks like a turtle integrated circuit. 🙂
Later in the week, I visited Mrs. Garner's Painting class and saw the students hard at work on the other panelists' tattoo designs.  The designs on the left for Mr. Foster.  He wanted a design that incorporated the meanings of his & his brothers' names: a tree, a star, the ocean, and tradition.  The two designs on the right are for Mr. Humphrey.  He wanted a design that represented an aversion to the love of money.  He suggested a heart made of money that was crossed out.  The middle design is a heart made of Monopoly money that is being torn apart.  It was cool to see the students hard at work.
On Tuesday, Mr. Adeboyejo shared his success with a new strategy he just tried with gathering Knows and Need-to-Knows.  Teams added their Knows and Need-to-Knows to the appropriate column in Trello.  When they agreed with another team's item, they added their color tag to it.  I like how this display allows teams to build consensus around common Knows and Need-to-Knows while also seeing the full variety of ideas existing among all the teams.  Mr. Adeboyejo said his students enjoyed working with this new format.
On Tuesday and Wednesday, I attended a training session on Master Schedule Building.  I learned a lot of strategies and tools for building master schedules that satisfy students' requests, maintain section balance and honor teacher requests.  We practiced using these techniques with the guidance of our instructor and we got to practice them again by working in teams of 3 to complete a master schedule for a fake school.  I worked with Natasha and Requel from Manor High School.  We worked really well together. We managed to create a schedule that had zero singleton conflicts (singletons are courses that only have 1 section), that distributed the singletons over all the periods, and spread course sections over different periods.  We also managed to maintain a balance in the seat numbers per grade level per period using a spreadsheet I whipped together after I got tired of the repetitive calculations that go into assessing scheduling decisions.
On Thursday, I observed Mr. Rodriguez' Art 2 class.  They are creating tattoo designs using Adobe photoshop.  Prior to designing the tattoos, they studied the first tattoos, Polynesian body art.  Students used that style to represent ideas that are important to them.  The class had a really great feel.  The students were very relaxed and also very focused while they worked on their designs.  Mr. Rodriguez observed students' progress and give short tutorials on Adobe Photoshop when students got stuck.  I also loved how at the start of the class the students had to create a drawing that went with this week's theme which was gratitude.
On Thursday, I dropped by Ms. Hart's Environmental Systems class to see how their artwork inspired by research on the COP21 website.  They had to research work being conducted at the conference and create a piece of work that represented the issue of climate refugees.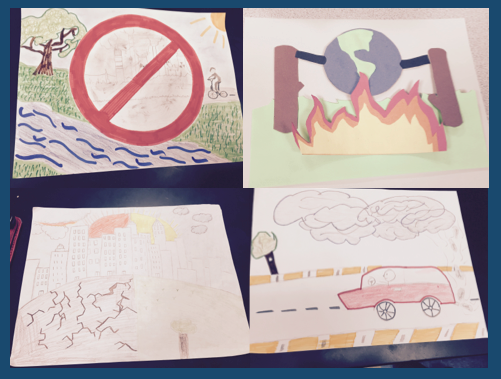 On Friday, I observed the sophomores working on Day 2 Launch activities for the Portrait of the Renaissance project in Mrs. Fain Jackson's and Mr. Chamber's ELA/World History class.  In this project they will be creating writings and displays that represent the impacts of the Renaissance and the Performance.  Students were creating group contracts and analyzing the project rubrics by creating color-coded charts of their Need-to-Knows; each color corresponded to a different student.  In addition to the rubric, the teachers provided the students with past student products so they could visualize the project expectations.
On Friday, the Robotics class worked on evaluating their mechanism designs using decision matrices.  The class was divided into 4 mechanism teams: lift, launcher, climber and collector.  This project will prepare our team for the design challenges they are likely to encounter in the 2016 FRC competitions.  In one case, the decision matrix analysis led to a tie.  That design team spent some time at the dry erase board drawing the tied concepts so they could think harder about the constraints that would be used to break the tie.  Martin, a MNTH grad and former 2789 team member, came by for a visit.  Each mechanism team had a mixture of upper and lower classmen and appeared to be pretty cohesive.  Mr. Fishman noted that the upperclassmen have really taken it upon themselves to bring the lower classmen up to speed.  This bodes well for our upcoming season.